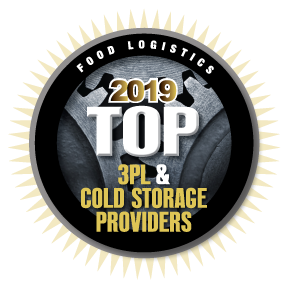 The year 2019 marks our 30th Anniversary since the business was established back in 1989. Started of humble beginnings and a strong will to succeed, founder and owner Connie Banks started CBT out of her basement with just 2 phones and this year we are proud to announce that we have been selected as a "Top 3PL & Cold Storage Providers."
Since then, CBT has stayed true to its roots of exceptional service and a steady growth year after year. CBT started out specializing in the transportation of poultry and is now transporting not only fresh poultry, but also provides transportation for the foodservice industry both dry and refrigerated. Along with specializing in the refrigerated food sector, CBT has formed relationships with the government. From hauling critical supplies for FEMA, documents for the Department of Interior to jersey barriers for the Customs Border Patrol. There have been heavy-hauls that require specialized equipment and now have access to some of the best LTL carriers both dry and refrigerated.
Today, CBT is still lead by founder, Connie Banks who got in this business when women were very much overlooked and under-appreciated. As a pioneer for women in this industry, she has built a company built on trust, pride, professionalism, competence, and a passion to succeed.
The logistics industry has evolved in the last 30 years and CBT has always kept up with the technological changes and is now venturing into new technology such as Blockchain. We are currently working on state of the art technology that will further enhance our footprint on the digital marketplace but still stay true to our roots of answering the phones by a live person and getting a cheerful, "Good morning, CBT!"
From Our Customers

We first contacted CBT with an emergency load and no time to spare, which they covered for us easily. We have since been involved with the company on a fulltime basis. CBT handles difficult lanes more affordably and more efficiently than carriers we have relied on in the past. They handle our business with a high degree of professionalism, and their track record of on-time deliveries has made CBT a partner we depend upon day in and day out. I would recommend CBT to any business requiring a consistently high level of logistical service.
Seth
Diversifood Associates, Inc.

CBT has managed our Midwest freight for many years. Their extensive base of dedicated carriers is an incredible asset for our shipping needs. You can rely on CBT to handle your freight efficiently and professionally every time.
Larry
Harrison Poultry

In the movement of fresh perishable products, you want a team that is equipped to delivery product on time and in good condition. CBT Inc is an outstanding group of individuals that are committed to providing quality service and positive results! I have partnered with them for over 3 years and have been very pleased with the level of service!
John Heaton
Pilgrim's Ellijay
We have worked with CBT for our backhaul needs for over 20 years. They are professional and offer fair rates. It is a pleasure to work with a company as knowledgeable of the trucking business as CBT.
Terry
President, Kennamer Brothers